Avatar's marketing budget was speculated to be in excess of $200 million although the exact figure has never been released. Aswell as the fairly unsucessful viral campaign on AVTR.com, 20th Century Fox also had a more traditional campaign which proved INCREDIBLY sucessful, utilising other giant media/ business conglomorates and social media to great effect.
McDonalds and Avatar
McDonalds and 20th Century Fox (two of the most POWERFUL GLOBAL businesses) partnered together to create a symbiotic marketing campaign which was mutually advantages to both sides.
"The fast food chain has developed an interactive game that explores Pandora, the world where Avatar takes place, via high-resolution, 360-degree views - among other sci-fi marketing touches."
The game called PandoraQuest was accessible on McDonald's local Web sites around the world from December 18 2009. The games goals included finding hidden objects within three different Pandora landscapes. Retrieving all objects enables the player to advance deeper into Pandora and reach their goal of becoming a member of the "RDA Research Team" as seen in the movie.
A key component to the game was McD VISION, an augmented reality experience that immerses players in Pandora. In addition to this was PandoraROVR a vehicle which can transport the player all around the web version of Pandora.
"McD VISION: An augmented reality (AR) experience that uncovers characters and scenes from the film, and immerses players in the world of Pandora. Players use their "McDonald's Thrill Cards" available in participating U.S. restaurants (through Jan. 7, 2010, while supplies last) to interact within AVATAR's fantastic world."
"PandoraROVR: An online discovery experience where players can take their first steps on Pandora, putting them in the driver's seat for interactive explorations of Pandora's terrain. The players' mission is to roam freely, capture and share images of their exotic discoveries."
This marketing campaign crucially helped to connect online advertising with in-store purchases. For example, interactive toys in Happy Meals and AR 'Thrill Cards' with Big Macs, targeting the gaming demographic, that become part of the experience in the online Pandora when held up to a webcam.
A 3-D film, Avatar 'sets the bar high for customer engagement tie-ins,' McDonald's U.S. chief marketing officer Neal Golden said. But according to Cameron, the restaurant chain has delivered with its tech-heavy, futuristic look. "When I set out to write this movie, I knew that the [computer generated imagery] was about to create a situation where we could do anything that we could imagine," he said.
"McDonald's has stepped up and met that same level. I don't think anyone has seen anything like what they're doing with these tie-ins, the McD vision augmented reality in particular."
McDonald's also ran a Twitter campaign, asking followers to be the first 10 to decode daily word scrambles. The grand prize was a private screening of Avatar over a Big Mac lunch with producer Jon Landau (Source: Promo Magazine.)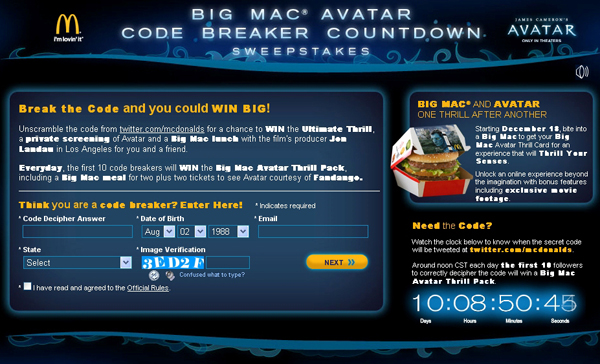 Stats released the week beginning Monday 25th January 2010 showed that:
Total global receipts of the film had reached $1.858 Billion

This is $16 million ahead of the $1.842 Billion earned by Titanic, but Avatar hasn't even finished yet.
Avatar has a shot at topping $750 million at the US box office and $2.5 billion worldwide.
Many people believe that the films huge earning were due to the global marketing campaign and social media proliferation.
To further exacerbate this point:
Avatar on
Facebook
had
1,149,471 fans as of 28th January,2010

1,518 fan photos

3,235 links
In addition to this the 'Blogosphere' was inundated with posts about the film, trying to post spoilers, images, any and every tiny detail of information on the film shrouded in secrecy and enigma to the extent that many knew of the film the previous autumn! (That is one hell of a buzz!)
If that wasn't enough the Avatar YouTube page drew in millions of fans in their drones, loaded with behind the scenes information and fake videos by the character Dr Augustine.